CutGLib license is linked to a unique hardware code that defined by a combination of a computer hardware and operating system.
Hence, when you installed a new operating system or got a new computer then you need to get a new license key. According to our license agreement, you can freely transfer the license if the last activation date was more than 120 days ago.

Regardless of your reason of the license transfer please do the following:
---
2. Get new hardware code.
You can get the hardware code by running our small application from the Windows menu: Start -> All Programs -> CutGLib -> Get License: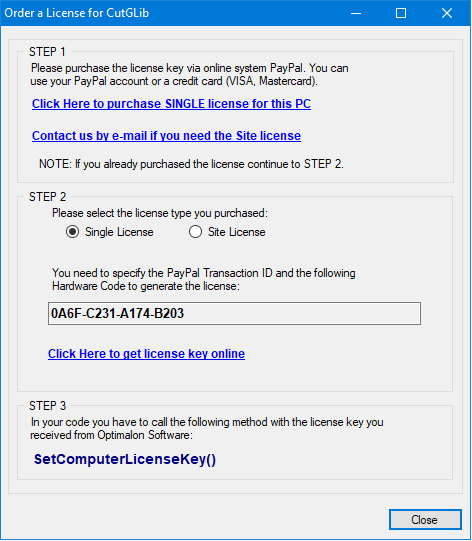 ---
3.Try automated license transfer.
You need to get into our automated license system that you used when you purchased the license (link is below).
Once you get to the step where you specify the hardware code you need to clear / delete the old hardware code and type in the new hardware code you got on the step 2.
Then you can proceed further and get new license key for you new PC or Windows.
Click here to get new license key online.
NOTE: If you cannot clear old hardware code then it means you trying to transfer the license before 120 days since the last license activation. Click here:

to send us e-mail with PayPal transaction ID or receipt number as a proof of your purchase and the hardware code you got on the step 2.
We'll check your record and will generate a new license key if there is no problems. Should we have any concerns we will contact you.